Top 10 best gourmet food in lounges
Airport food gets a bad name, a lot of fast food, junk food, pre-cooked meals and a lack of variety. That is why IEG wanted to find a list for our dear community with the top 10 best gourmet food in VIP lounges around the world.
1. SilverKris Lounge is Singapore Airlines
The SilverKris Lounge is Singapore Airlines' main Business Class lounge at Changi Airport. The carrier introduced a 'home away from home concept for its SilverKris Lounge, with unique spaces modelled after living, dining rooms and kitchens, featuring tastefully selected art pieces. There is no shortage of seating variety as guests can choose from meeting rooms, café/bars or 13 Italian-leather slumberettes. It has one of the widest varieties of lounge foods in the world, including vegetarian cuisines, western dishes, plates of pasta, Chinese stir-fried classics or Indian curries, in addition to Singaporean classic dishes like carrot cake, fried noodles, and chicken rice.
2. Etihad Airways Premium Lounge, Abu Dhabi
Etihad's spacious Premium Lounge at Abu Dhabi International Airport features a chic decor that you would expect in a boutique hotel rather than an airport lounge. There is a wealth of services and facilities on offer in the lounge, including shower rooms, champagne bar, cigar lounge, children's play area staffed with qualified nannies, work and relaxation areas. Several food stations display an impressive, frequently replenished international buffet which includes a wide variety of meats, cheeses, pastries, fruits, and hot items. The lounge's Six Senses Spa, dedicated to ambient relaxation, provides an urban sanctuary where guests can enjoy a range of complimentary express treatments.
3. Emirates Business Class Lounge at Dubai International
4. Qatar Airways Al Mourjan Business Lounge, Doha
Qatar Airways Al Mourjan Business Lounge at Hamad International Airport is the best Business Class lounge that I ever encountered during my extensive travels. It simply outclasses all the current competition out there. The physically stunning space with its high ceilings has a refreshing resort-like ambience. The lounge is adorned with marbles, designer furniture, and bronze walls featuring traditional Arab calligraphy. It offers a variety of dining areas with an extensive buffet as well as fully equipped business centers, private workstations equipped with personal display screens, shower rooms, prayer rooms, and game rooms. All of them are state-of-the-art and incredibly well designed.
5. United Polaris Lounge in Los Angeles
The award-winning Star Alliance Lounge at LAX's Tom Bradley International Terminal is created and managed by Air New Zealand in consultation with its Star Alliance partners. The lounge's main attraction is an outdoor terrace that invites guests to enjoy views over the airfield and distant Hollywood hills. By day you can enjoy Southern California's famous sunshine and by night a sophisticated and cozy fire lit ambience. The lounge has a serviced bar with complimentary cocktails and refreshments available. Its numerous areas allow guests to relax, work, dine or be entertained as they wish. Well-appointed shower suites are available for guests wishing to freshen up before their flight.

6. Air Canada Maple Leaf Lounge in Toronto Pearson
Air Canada's Maple Leaf Lounges The food is good and plentiful (they recently added sandwiches to the lunch lineup), with plates of pasta for supper, real oatmeal with fresh fruit for breakfast, baked-on-premises cookies. Good coffee, decent variety of free liquors and liqueurs
7. Turkish Airlines Business Lounge in Istanbul
You'll want to make your way to the food and drink area immediately because Turkish Airlines is world-famous for its spectacular food. In this lounge, there are self-serve buffets, live cooking stations, and open kitchens. Starting in the self-serve area, there's a gigantic salad spread, soups, Asian entrees, and a drool-inducing showcase of Turkish desserts. There are also grills where you can order meat and side dishes, a self-serve drink section, staffed coffee and tea stations with Gaggia espresso machines, and much more.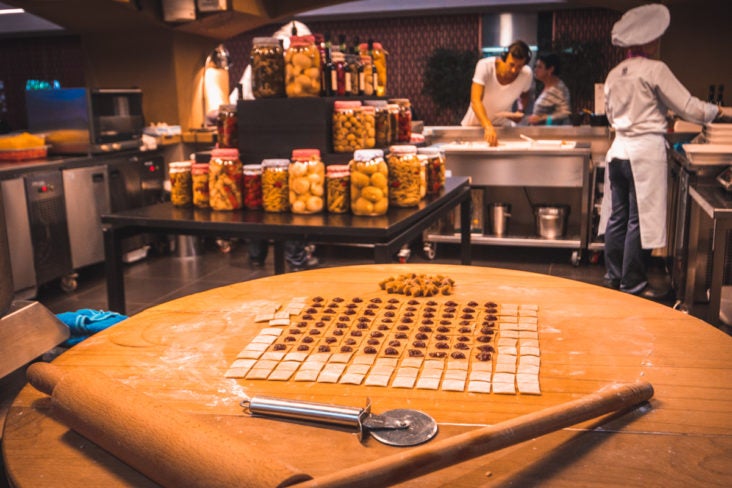 8. Air France Business Lounge at Charles de Gaulle
The highlight of the food and beverage area is the Gourmet Table, which is where the chef prepares the dish of the day, fresh. It's not a full à la carte menu by any means, but the buffet should help satisfy any other cravings you might have especially all those awesome cheeses and fresh mini baguettes.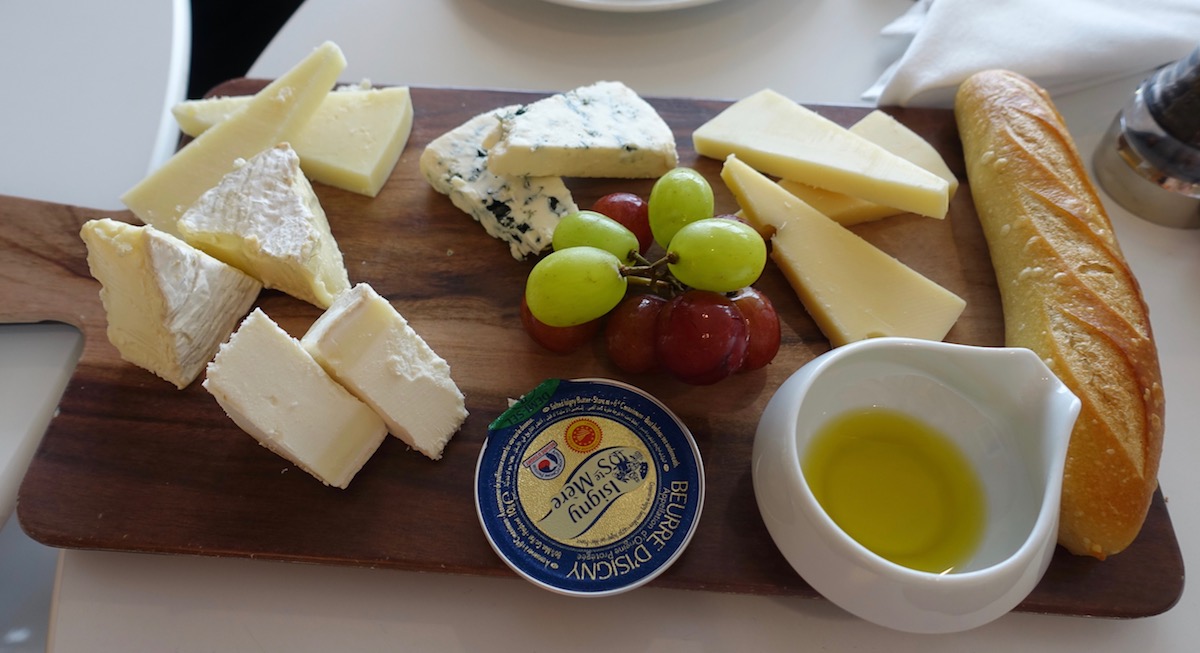 9. ANA Business Lounge in Tokyo-Haneda
The main dining area has a buffet with salad, finger sandwiches, sushi, bread, fruit, pastries, curry, scrambled eggs, dumplings, and a noodle bar. Also, you'll find a live kitchen and bar area serving lots of fresh dishes. The noodle bar serves variants of soba, udon, and ramen noodles. The drink selection includes a self-serve espresso machine, 2 Asahi beer dispensers, a soda machine, a brewed coffee machine, self-serve liquor and alcohol, and other soft drinks. There's also another buffet nearby with the same food selection but without a noodle bar.
10. Oman Air Business Class Lounge at in Muscat International
There are 2 dining areas, each of which has a self-serve buffet, an open-air kitchen, and a selection of hot food options. However, the most impressive treat is the mountain of dates on offer. You'll also find a cheese selection, cold cuts, cookies, pastries, bread, cereal, and more. Unfortunately, à la carte dining is reserved for first-class passengers only. The lounge has 2 types of Nespresso machines, self-serve juice, water, soft drinks, and more.